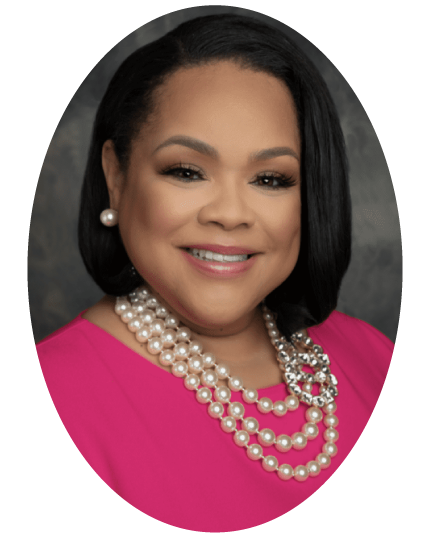 Our Regional Director
Joya T. Hayes is a life member of Alpha Kappa Alpha Sorority, Incorporated and serves as the 26th South Central Regional Director.  She was initiated in the fall of 1993 as a second-generation member of the Beta Kappa Chapter at Huston-Tillotson University. At the chapter level, she has held the positions of President, Vice President, Graduate Advisor to both the Beta Kappa (Huston-Tillotson University) and Delta Xi (the University of Texas at Austin) Chapters and has chaired numerous committees and fundraisers. At the international level, Joya has served as the South-Central Representative, and later the International Chairman, to the Graduate Advisors' Certification Committee, where she personally trained and certified over 5,000 members of the Sorority. On the regional level, she has served as Cluster Coordinator for the Southwest/Central Texas Cluster, planned, and executed four cluster events, served as Chairman of an Undergraduate Round-up, and presented workshops at ten regional conferences, eight cluster retreats, and four Boules under the leadership of four Regional Directors.  Joya is a proud Silver Star and serves as the 26th South Central Regional Director.
Beyond her service to the Sorority, Joya has tirelessly served the greater Austin community. Currently, she is a board member of Child, Incorporated (Austin's Head Start Program), and is a 20-year board member of the Austin Area Heritage Council (responsible for Austin's MLK March and Festival celebrations). She is also a member of the Town Lake Chapter of The Links, Incorporated and a former licensed foster parent in both Virginia and Texas. She has received over 35 community awards for her dutiful service. And her greatest reward has been her son, Robert Elijah Hayes, whom she adopted in June of 2016.
Professionally, Joya is a cum laude graduate of Huston-Tillotson University, where she received her bachelor's degree in Mass Communications, and a graduate of Texas State University, where she received her master's degree in Public Administration.  Joya has 22 years of experience in human resources, training, and organizational development, community-based programming, policy & procedure development, and executive-level planning. Currently, Joya is the Director of the Human Resources Department, and Director of Civil Service for the City of Austin, Texas.
As a motivational speaker, Joya has delivered speeches to over one million people in six states and two countries. She is a dynamic and energetic speaker known for her humor and powerful energy. She is also an extraordinary emcee and speechwriter and has written speeches for elected officials in three states.